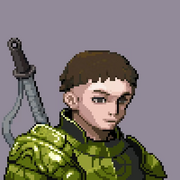 As the Searing Light faded, a courier named Yuler, sent by Reimo, approached the party with a delivery from the Researchers of Stalwart.
The courier brought forth 15 of 20 Field Notes, 10 for King Offling and 5 for Protagonist. They were instructed that these Tokens of Concord provide both utility within the world, and membership to a Concord. Reimo gifted the Field Notes to King Offling and Protagonist for their efforts to record the word over the prior week, and entrusted them to decide who would be best to join the Researchers of Stalwart.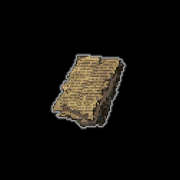 He also brought a fragment of a larger Map outlining the Church of Her, as well as the Putrid Forest and Ruined Kingdoms of Yore that had been debated about during the group's decision to follow Paths East and West. It also revealed a Stalwart Fortress and Crow's Den establishments.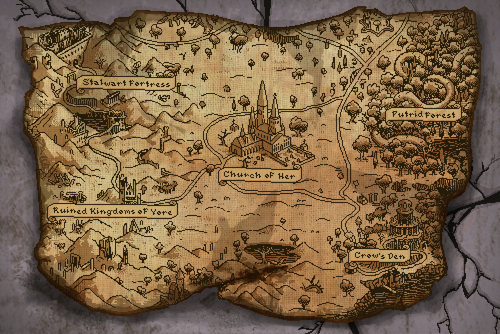 Suddenly, a Darkblade Disciple sprang up and captured Yuler. She sought to end his life to obtain his Tokens of Concord, so that she may access the Stalwart Fortress. Confronted by the group, she made an offer; let her kill Yuler and she would give away one of his tokens along with a Fetid Crow's Talon. [2]
The decision would be split by margins thin and thick as each individual's internal morality shifted reason.
In the end, a wide majority chose to save Yuler's life. [5]
The Darkblade Disciple was slain. [7] The Fetid Crow's Talons she carried dissolved. [8] Her final words were a warning:
𝔄𝔥, 𝔶𝔬𝔲 𝔣𝔬𝔬𝔩! ℜ𝔢𝔰𝔦𝔰𝔱𝔦𝔫𝔤 𝔫𝔞𝔱𝔲𝔯𝔢?
𝔑𝔞𝔱𝔲𝔯𝔢 𝔦𝔰 𝔠𝔥𝔞𝔬𝔰 - 𝔠𝔥𝔞𝔬𝔰 𝔴𝔦𝔩𝔩 𝔩𝔦𝔳𝔢 𝔬𝔫. [9]
After the assassin's defeat, Yuler reveals that the party is nearly at the Stalwart Fortress, home to Luta the Beacon who communicates with all through telepathic visions. He also says that to enter the fortress, one must be chosen by the Stalwart or carry a Token of Concord.
𝔗𝔥𝔞𝔫𝔨 𝔶𝔬𝔲 𝔣𝔬𝔯 𝔶𝔬𝔲𝔯 𝔠𝔬𝔲𝔯𝔞𝔤𝔢 - ℑ 𝔨𝔫𝔢𝔴 ℌ𝔢𝔯 𝔏𝔦𝔤𝔥𝔱 𝔴𝔬𝔲𝔩𝔡 𝔰𝔞𝔳𝔢 𝔪𝔢.
𝔅𝔲𝔱 𝔰𝔱𝔦𝔩𝔩, ℑ 𝔴𝔞𝔰 𝔮𝔲𝔦𝔱𝔢 𝔱𝔢𝔯𝔯𝔦𝔣𝔦𝔢𝔡.
ℑ 𝔡𝔦𝔡 𝔫𝔬𝔱 𝔴𝔞𝔫𝔱 𝔱𝔬 𝔡𝔦𝔢 𝔣𝔬𝔯 𝔞𝔫𝔶𝔬𝔫𝔢 𝔟𝔲𝔱 ℌ𝔢𝔯.
𝔗𝔥𝔢𝔶 𝔴𝔦𝔩𝔩 𝔟𝔢 𝔰𝔬 𝔦𝔪𝔭𝔯𝔢𝔰𝔰𝔢𝔡 𝔟𝔶 𝔶𝔬𝔲𝔯 𝔰𝔱𝔯𝔢𝔫𝔤𝔱𝔥 𝔟𝔞𝔠𝔨 𝔞𝔱 𝔱𝔥𝔢 𝔖𝔱𝔞𝔩𝔴𝔞𝔯𝔱!
𝔄𝔫𝔡 𝔩𝔬𝔬𝔨, 𝔴𝔢 𝔞𝔯𝔢 𝔫𝔢𝔞𝔯𝔩𝔶 𝔱𝔥𝔢𝔯𝔢!

𝔏𝔲𝔱𝔞 𝔱𝔥𝔢 𝔅𝔢𝔞𝔠𝔬𝔫 𝔠𝔬𝔪𝔪𝔲𝔫𝔦𝔠𝔞𝔱𝔢𝔰 𝔴𝔦𝔱𝔥 𝔞𝔩𝔩 𝔴𝔥𝔬 𝔢𝔫𝔱𝔢𝔯 𝔱𝔥𝔦𝔰 𝔰𝔭𝔞𝔠𝔢.
ℑ𝔣 𝔶𝔬𝔲 𝔞𝔯𝔢 𝔫𝔬𝔱 𝔠𝔥𝔬𝔰𝔢𝔫 𝔟𝔶 𝔱𝔥𝔢 𝔖𝔱𝔞𝔩𝔴𝔞𝔯𝔱, 𝔬𝔯 𝔥𝔞𝔳𝔢 𝔓𝔯𝔬𝔬𝔣 𝔬𝔣 ℭ𝔬𝔫𝔠𝔬𝔯𝔡, 𝔱𝔥𝔢𝔫 𝔶𝔬𝔲 𝔴𝔦𝔩𝔩 𝔫𝔬𝔱 𝔟𝔢 𝔞𝔩𝔩𝔬𝔴𝔢𝔡 𝔱𝔬 𝔢𝔫𝔱𝔢𝔯.
𝔄𝔩𝔱𝔥𝔬𝔲𝔤𝔥, 𝔰𝔦𝔫𝔠𝔢 ℌ𝔢𝔯 𝔤𝔩𝔬𝔯𝔦𝔬𝔲𝔰 𝔟𝔩𝔦𝔫𝔡𝔦𝔫𝔤 𝔩𝔦𝔤𝔥𝔱 𝔢𝔯𝔲𝔭𝔱𝔢𝔡 𝔶𝔢𝔰𝔱𝔢𝔯𝔡𝔞𝔶, 𝔥𝔦𝔰 𝔳𝔦𝔰𝔦𝔬𝔫𝔰 𝔥𝔞𝔳𝔢 𝔟𝔢𝔢𝔫... 𝔖𝔱𝔯𝔞𝔫𝔤𝔢... [10]
The group carries onward to the fortress. Meanwhile, a group calling themselves The Dark Blade Guild leave a threatening message in response to the Darkblade Disciple's death. [11]