Have you ever wondered how angels came to walk alongside man? Let me tell you the story of Koravin, the Piercer of the Heavens.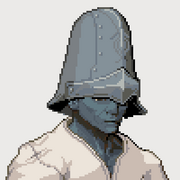 Koravin, the lowly fool
Born a lowly fool, destined to wear his peasant garb and idiot's helm Koravin stared into the sky and grew jealous of the clouds. So disgusting was his vanity that he sought to be among them.
Koravin, Piercer of the heavens
Each night he took off his idiot's helmet and hammered away at it in his forge, sharpening and elongating it. Each day he wore it proud, his body now twice the size of a regular man. Until one day his helmet touched the very clouds he sought to be amongst.
A shattering scream was heard that night as Koravin's idiot helm pierced into the very heavens and clipped the wing of an angel. Incensed by the disgusting greed of man Yorn The Hole cast hundreds of seraphim from the heavens, forever doomed to walk and look like man as a permanent reminder to the consequences of vanity and greed.