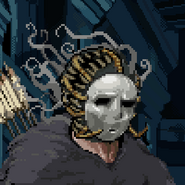 Contract: We are All Going to Die
Token ID:
"𝔏𝔢𝔱 𝔱𝔥𝔢 𝔣𝔬𝔬𝔩𝔰 𝔠𝔥𝔞𝔱𝔱𝔢𝔯 𝔞𝔫𝔡 𝔤𝔯𝔬𝔴 𝔡𝔢𝔰𝔭𝔬𝔫𝔡𝔢𝔫𝔱, ℑ 𝔣𝔬𝔯 𝔬𝔫𝔢 𝔥𝔞𝔳𝔢 𝔢𝔪𝔟𝔯𝔞𝔠𝔢𝔡 𝔡𝔢𝔞𝔱𝔥 𝔞𝔫𝔡 𝔴𝔢𝔩𝔠𝔬𝔪𝔢 𝔦𝔱. 𝔏𝔢𝔱 𝔱𝔥𝔢 𝔣𝔩𝔬𝔬𝔯 𝔠𝔯𝔞𝔰𝔥, 𝔟𝔯𝔞𝔳𝔢𝔯𝔶 𝔰𝔥𝔦𝔫𝔢𝔰 𝔦𝔫 𝔱𝔥𝔢 𝔣𝔞𝔠𝔢 𝔬𝔣 𝔞𝔡𝔳𝔢𝔯𝔰𝔦𝔱𝔶" - ℭ𝔯𝔦𝔰𝔭𝔶𝔗𝔬𝔞𝔰𝔱
There are numerous rumours regarding what's under that mask, a scarred face? Burned skin? Perhaps Crispy of the Toast isn't even human at all...The truth however, is darker than that... Maybe there's some truth to his inhumanity as his brutality and callousness knows no bounds.
The truth is he began wearing the "She who cries" mask after throwing Jarel the Gold (#1062) into the fire, Jarel was Crispy's most loyal friend and knight... For what reason? Nobody knows, except some claimed to have heard deranged cackling amongst Jarel's screams.
Jarel the Gold